Men's Health
---
If you feel like you're losing your edge, we can help you fix the root causes. Male sex hormones (androgens) can start to decline in your late 30's when men, on average, lose 2% to 3% of their testosterone per year.  This gradual decline in your hormones can result in a host of symptoms, including: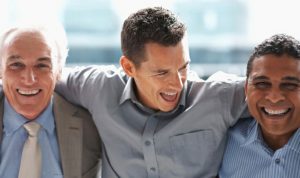 Erectile Dysfunction
Decreased Libido/Sex Drive
Weight Gain
Increased Body Fat
Reduced Bone Density
Reduced Muscle Mass & Strength
Depression
Irritability
Memory Loss
Thinning Hair
Emotional Upheavals
Sleep Disturbances
There are several different therapies that can be used to restore healthy testosterone levels, depending on your age, history, life circumstances and personal preferences. We have the experience and expertise to determine the right therapy for you. If you're tired of struggling with symptoms of male hormone imbalance or deficiency, come talk to us. We can help.
Restoring healthy testosterone levels can not only can help you to look better and perform better sexually, it also reduces the risk of cardiovascular disease, type 2 diabetes, dementia, osteoporosis, prostate and colon cancers.
Osteoporosis is often thought of as a women's disease but nearly 1 out of every 3 men over age 50 will suffer a fracture due to osteoporosis. In my practice, almost half of the men that we scanned over age 45 had at least early bone loss (osteopenia).. Osteoporosis is a preventable disease.
Male Sexual Enhancement Program – P Shot
---
The Priapus Shot, or P-Shot, uses a clinically proven technique called Platelet Rich Plasma Therapy to produce better quality erections and enhance sexual pleasure, without the use of chemicals, drugs or surgery.

What is platelet-rich plasma or PRP?
It is a portion of your blood that contains healing elements and growth factors.  To create PRP, your blood is drawn and the platelets and growth factors are separated from other cells with a special centrifuge. Using a patent pending technique, the PRP is injected into the penis using a very thin needle. You will experience little to no pain, as the entire area is thoroughly numbed with a topical anesthetic. The growth factors in the PRP from your own blood stimulate increased blood flow to the penis, resulting in stronger, harder, bigger erections. Most men also experience enhanced length and girth.
Hundreds of men have benefited from this procedure, and since PRP is derived from your own body there have not been any reports of significant adverse effects. Dr. Ebanks is one of a select group of physicians trained to perform this breakthrough, safe and effective procedure.
With the P-Shot you can expect:
Longer, harder, more sustainable erections
Increased sexual stamina
Increased sensation and pleasure
Better blood flow and circulation for better overall penile health
More youthful appearance
Join the new sexual revolution!
The P-Shot is accomplished in less than 30 minutes, is delivered with little to no pain or discomfort, requires no downtime and can be effective for 12-18 months.
Male Sexual Dysfunction
---
It can be embarrassing to talk about problems in the bedroom. For men, erectile dysfunction (ED) and premature ejaculation (PE) can really interfere with a healthy sex life.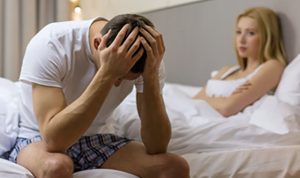 Have you noticed that it takes longer or requires more stimulation to achieve an erection? Maybe your erections are not as firm or as large as they used to be, you may lose your erection after an orgasm more quickly, and it could take longer before another erection is possible. A certain degree of physical change comes along with age. But putting age aside, there are things that can cause the same symptoms, like the stress at work and just the demands of everyday life. Luckily, there are a number of effective therapies including Viagra, Cialis, Levitra and others in that class of medication. They do not work for everyone, can have unpleasant side effects and are not indicated with certain medical conditions.
Intracavernous injections, like TriMix, can be a very effective treatment for ED and PE.  The injection into the penis triggers an automatic erection.  You are taught the proper technique to perform the injection 5 – 10 minutes before sexual activity and should last no more than one hour.
Another option is a fairly new peptide, PT-141, that works differently than any other ED treatment.  Rather than working directly on the vascular blood flow. PT-141 stimulates the part of the brain associated with sexual arousal.  It is injected under the skin in the abdomen.  It can take 4-6 hours to become effective but lasts 6-12 hours thereafter.
Reaching your climax too fast leaves both you and your partner unsatisfied. This can happen to men at any age. In fact, many men live with the shame they feel because they are too embarrassed to discuss it with their doctor. Up until now, most treatments have been ineffective using topical numbing creams or antidepressant medication.
At Alternity Healthcare, we have developed sexual enhancement programs that improve and restore your potency and function to enable you to have the most gratifying sex of your life.